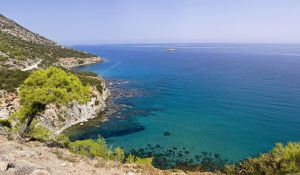 The Akamas National Park lies on the west coast of Cyprus, whereby its dramatic coastline can be viewed from the hotel. Akamas is known for its upoilt beauty and precious ecology. It has an area coverage of 230 square kilometres containing valleys, gorges and wide sandy bays.  Enriched in a vast variety of fauna, and home to a variety of birds, reptiles, mammals and 16 species of butterflies.   The European Council has included it in its Mediterranean Protection Programme.
 Experience it's epic beauty  by foot, car or boat.
Akamas Nature Trails:
There are three official nature trails: the Adonis Trail, the Aphrodite Trail, and the Smigies Trail.
Interwoven with rocky hiking trails, these three nature trails offer people walking through them stunning views of various sized gorges and valleys, amazing rock formations, the curved coastline, cliffs, and intriguingly shaped boulders.