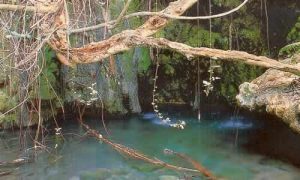 Located 4km from the Souli Beach Hotel, the Baths of Aphrodite is famously known according to legend as where the goddess of love Aphrodite would bathe, and where she first met her great love Adonis.
The waters here are said to hold special rejuvenating powers. A natural spring supplies the water to the shallow pool and is surrounded by ferns and a large fig tree which caters for shade.
Its a small walk to reach,  on a stone paved pathway surrounded by a variety of fauna.