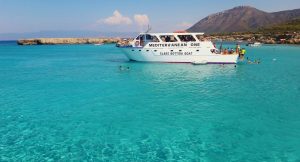 The Blue Lagoon is one of the most popular places of Akamas, located deep into the Akamas Peninsula.
Hire a boat from Latchi Harbour that is 400m from the Souli Beach Hotel.
Alternatively, book a mini-cruise that sets out at least twice a day from Latchi Harbour, and includes food, beverages and entertainment.
The crystal clear water and picturesque coast line is a must visit. Soak up the sun, enjoy a swim and take in the beauty under the sea by snorkelling or diving.
View all nearby attractions here.